Division of Life Sciences
Division of Life Sciences
Conducting leading-edge research in the Life Sciences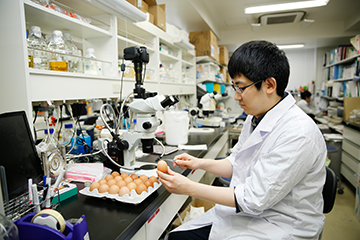 Life Sciences is one of the most dynamically advancing academic fields in recent years. Technologies producing cloned animals, genetically modified plants, and pluripotent stem cells, have become available and are increasingly related to our life. Division of Life Sciences works on various species ranging from microorganisms, plants, insects, and vertebrates and analyzes basic mechanisms of life and diseases at the molecular, cellular, and organismic levels.
Research Field
The educational program at the Division of Life Sciences is comprised of the following three courses.
Molecular Biosciences Course
Research on molecular mechanisms maintaining multi-layered life systems
Students gain a solid knowledge of biomolecular functions primarily at the cellularand organizational levels to comprehend life as a unified system. They also learn to see illnesses as system breakdowns in order to study the causes and methods of treatment.
Bioresource and Environmental Sciences Course
Research on the interface between life and the environment, focusing on genomes and the global environment
Students learn to analyze life sciences from a macro perspective that includes genetics, bionomics, and bioenvironmental sciences, addressing both plant and animal studies. Research is also conducted on bioresource utilization strategies that include breeding and resource development./p>
Animal Medical Sciences Course
Research on the physiology and pathology of humans and animals grounded in the basic life sciences
Studying primarily microorganisms and model organisms at the organism level, infectious diseases such as diseases transmissible from animals to humans or vice versa (zoonosis) are elucidated. Research is conducted on various topics, such as safety in living environments and the development of pharmaceuticals.