Division of Kyoto Studies, Correspondence Education
Division of Kyoto Studies, Correspondence Education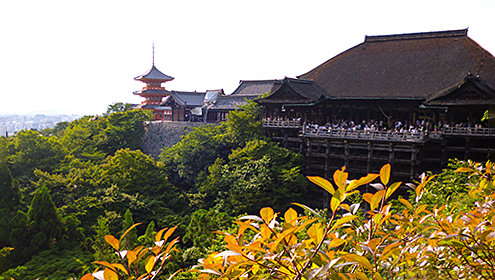 This graduate course offers an opportunity to study specialized perspectives, methods, and knowledge related to history, literature, cultural assets, and traditional industries and to acquire skills and wisdom that can be useful beyond Kyoto, in local and international communities through research and analyses.
Distance-learning course that allows you to learn at your own pace
The Graduate Course for the Cultural Studies of Kyoto is a distance-learning course where you can study without time constraints. Even working adults can learn in this course with ease.
Teaching staff with profound knowledge of Kyoto
In this course, teaching is conducted in small groups by teachers with a profound cultural knowledge of Kyoto. You can receive detailed guidance for your study, from research planning to writing papers.
Learning that makes the best use of geographical advantage
In exercises, fieldwork, including on-site surveys and work experience with artisans, will be conducted, in relation to the research theme. You can study actively in Kyoto as your location.
Advanced learning environment using an LMS
The learning management system (LMS) is used in the course. We support your research with an advanced e-learning system.
An extended term of study for busy working people
Although the standard course term is two years, we have an extended-term program so working adults can complete the course comfortably in three or four years.
Course features
Extensive study of practical issues related to cultural assets and traditional industries
Many cultural assets, traditional crafts, artistic handicrafts, and other traditional industries are still active in Kyoto. In this graduate course, you will carry out surveys, analyses, and research under academic direction on subjects such as preservation and utilization of cultural assets and development of traditional industries from teaching staff directly involved with them.
New methods of philology for history and literature
Historical research is important for investigating the background of the various cultures of Kyoto, and literary research is important for understanding the aesthetics and other perceptions of people. In this graduate course, you will learn how to apply the latest methods of philology concerning history, geography, and literature to the study of the culture of Kyoto, including techniques based on recent progress in the research environment, such as computerization.
Step up through distance learning regardless of when and where you study
This graduate course is a distance-learning course that allows working adults to study without being constrained by time or place, simply based on the development of the information environment. The course students develop their research and acquire expertise according to a plan, including the option of an extended term of study that would permit them to complete the course in three or four years.