Division of Law
Division of Law
Law Course
Curriculum Learning both Theory and Practice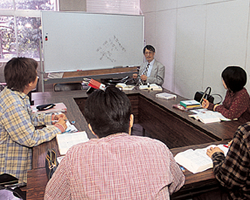 Law Course offers curriculum to acquire advanced specialized knowledge on law and political science. We accept applicants who wish to acquire research capacity and wish to become a researcher and offer courses on knowledge and skills both on academic inquiry and legal professions. Our educational goal is to foster specialized professionals who are able to respond to legal society widely. Upon completion, there are diverse career paths; some of our graduates proceed to doctoral program, employment as a legal professional, public officer, or corporate worker. Law Course provides close supervision, accommodating respective graduate student's purpose of graduate studies.
Law Course Program Description
Productive Research Environment
Graduate students'research rooms are equipped with individual desks and book shelves, allowing them to engage in their research. We also have space where graduate students can meet up for research meeting and discussion. Graduate students have access to 1.09mil. books at the Library, as well as research and learning space such as the Learning Commons.
Addressing Practical Works
Law Course offers courses on legal practices and corporate legal affairs such as "Taxation Policy Special Course" by a Certified Public Tax Accountant and "Contract Drafting in English" (taught in English) by a Licensed Attorney by the State Bar of California, United States. We also offer internship courses so that graduate students are well prepared for their future careers. While they deepen theory, our graduate students also acquire practical skills to prepare for their future careers.
Long Enrollment Period/Research Paper: Balancing Work and Graduate Studies※
Our graduate students with employment are able to register for a long enrollment track, enabling to be registered for four years with the tuition for the two years. Graduate students with employment are able to conduct their research on a slower pace, along with their work schedules. Instead of Master's Thesis, students are able to choose Research Paper (Specific Research Report), building upon their work experiences.
※Applicable to Interdisciplinary Studies in Law and Policy Course
---
Interdisciplinary Studies in Law and Policy Course
Fostering Leading Public Service Professionals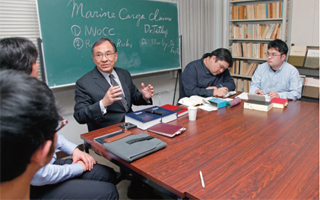 Law and Policy Studies consider measures to solve social problems based on theories in the fields of law and political science. The curriculum of Interdisciplinary Studies in Law and Policy assures a broad-based approach for acquiring a wide range of specialized knowledge with a clinical approach for tackling diverse problems in the real world. The Course aims to foster professionals who formulate solutions for diverse problems in public domain.
Interdisciplinary Studies in Law and Policy Course Program Description
"Broad-based Approach" and "Clinical Approach": Our Curriculum's Key Words
Broad-based Approach: Attempting Organic Linkages among Law, Political Science, and Policy Studies
Our curriculum allows students to select a broad range of courses and learn gradually. In the Spring Semester of the 1st year, we offer "Law and Policy Clinical Research" as an introductory course. Other core Graduate Courses include lecture courses such as "Public Policy Studies A/B," "Regional Public Policy Special Course A/B," seminar courses "Public Policy Special Seminar," "Public Policy Workshop," and "Political Organization Special Seminar."
Clinical Approach: Acquiring Ability to Address to Diverse Issues
We offer clinical and practice-oriented graduate courses such as "Law and Policy Clinical Research," "Law and Policy Field Work," allowing students to acquire capability to consider solutions for social problems through case studies. Graduate students learn practical policy formulation and policy evaluation by taking "Public Policy Studies A/B." Students have practical experiences in social business, public and local communities through the "Regional Public Studies A/B" course.
Three Course Areas: Responding to "Local Public Policy Planner" Qualification
Our Law and Policy Course comprises of three areas of study, "Regional Public,""International Public," and "Public Base." Our curriculum assures gradual and systematic learning. We meet graduate program requirements to obtain "Local Public Policy Planner"qualification, enabling to obtain the license, together with the Master's Degree.