Accommodation
Accommodation
International House
The International House, located just a few minutes walk from campus, is central to the life and experiences of exchange and YAP students at KSU. In addition to international exchanges shared through day to day living in the I House, various events are also organized by student residents throughout the year. These include welcome and farewell parties, seasonal events, birthday parties and other events that students wish to offer.
The I-House is primarily accommodation for incoming exchange students. Other students and visitors to the University may also enter subject to availability.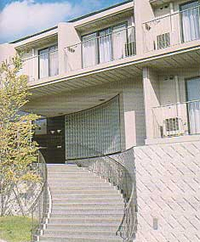 I-House Facilities
On the ground floor there is a spacious lobby used for social events, a Japanese tatami room and free study space. On the 2nd to 4th floors are rooms, communal living areas with wifi, communal kitchens and a laundry room.
Room Types
Single and shared rooms are fitted with a unit bathroom, air-conditioning, telephone (incoming only), kitchenette with refrigerator, a desk, study chair, single bed, closet, and drawers.
Family rooms are equipped with a unit bathroom, air-conditioning, telephone(incoming only), clothes washing and drying machines, kitchen, large refrigerator, electric range, microwave oven, table, chairs, sofa, desk and study chair, two single beds, closets, and drawers.
All rooms in the I-House enjoy a sunny south-west perspective with large private balconies.
Please note: *The International House and surrounding grounds are a smoke free zone. Smoking in any form, including vaping, is strictly prohibited.
Room Fees
Room Type
Rent (per month)
Admission fee
Single
(Per room)
38,000 yen
30,000 yen
Water & electricity included
Shared
(Per resident)
19,000 yen
20,000 yen
Family room
(Per room)
60,000 yen
40,000 yen
Water included
Electricity charged additionally
An admission fee will be invoiced to those residents staying 3 months or more.
(30,000yen for singles, 20,000yen for shared and 40,000yen for family rooms.)
A charge of two month's rent will also be invoiced in the month of admission, which will be used to pay for rent in the resident's final two months in the International house. Students are provided with rental bedding. (Includes: sheets, pillow, pillow case, duvet, warm blanket). Sheets and pillow cases are exchanged each month. Students are invoiced at the time of admission (6,600yen for one semester, 13,200yen for one year).
Family rooms are available for visiting professors, researchers and short-term language program participants only.
Check-in / Check-out Times
Check-in Hours: between 9:00 am and 7:30 pm
Check-out Hours: between 9:00 am and 4:30 pm.
*Checking out on weekends or public/KSU holidays is not permitted.
❋Please confirm with the Center for International Programs your dates for vacating the I-House before booking flights to ensure that you will not need to check out during a public or school holiday.
❋Travel time from the I House to Kansai airport takes approximately 3 hours, so please consider this when you book your return flights and if you intend to go to the airport directly from the I-House. Flights departing Japan before 2:00 pm should be avoided, or you will be required to vacate the I House the day before your flight.
Communal Lounge & Tatami Room
Student Room
Family Room