RESEARCH
RESEARCH
Developing research capabilities that contribute to improving Japanese scientific techniques
Kyoto Sangyo University is becoming a gathering place for frontier information and techniques as well as talented individuals who will assume leadership roles in the future. At KSU, top-class researchers in various fields collaborate with their counterparts both inside and outside the university in order to achieve an even higher level of research success.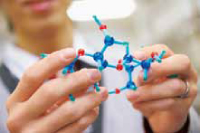 Attracting increasing praise from outside sources
In order to further enhance our research base, we have established our own original and comprehensive research support system. As a result, various research projects have been established within our university. Since research has become increasingly active at our university, applications have been made for scientific research grants for our research projects, and in many cases such grants have been awarded. As the number of grants we receive continues to increase greatly, our university is earning more high praise from outside sources.
5-year trend in subsidies received for scientific research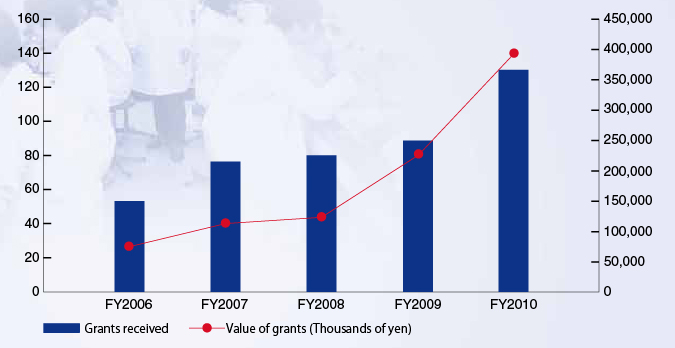 Disclosing research findings and promoting collaboration between industry, government, and academia
Disclosing our research findings
We disclose the results of research at our university through our publication titled "Research & Technology Seeds." We provide a variety of information about our successful research on our website and at exhibitions sponsored by various organizations. In addition, we approach various companies and contact the individuals in charge of research and development. While utilizing patent information and the like, we are taking the initiative to find practical applications for our research findings.
Promoting collaboration between industry, government, and academia
In addition to actively releasing the results of our research to the public, we continue to receive requests for sponsored research or joint research from a number of companies and other sources.
The Faculty of Science, Faculty of Computer Science and Engineering, Faculty of Life Sciences, and the Avian Influenza Research Centre are particularly active at promoting collaboration between industry, government, and academia and are making efforts to find practical applications for the fruits of our research.