Founding Principles
Founding Principles
The mission of a university is to nurture talented individuals who can continue to responsibly bear the burdens of future society.
Kyoto Sangyo University was founded in 1965 by Dr. Toschima Araki,a distinguished astrophysicist, based on the founding principles presented below. These educational ideals, as pertinent as ever, have become the guiding principles for education and research at the university.
Founding Principles
As in any country, universities are the highest institutions for education and research, and their mission is to nurture talented individuals who can continue to responsibly bear the burdens of future society. Their educational goal is to create persons of high moral standing who are able to carry out their obligations to society in an admirable way. Moreover, irrespective of whether they work in Japan or abroad, their education should cultivate a character whose soul is dedicated to contributing to the well-being and peace of all mankind and whose actions should thus gain international respect.
Such an individual should be furnished with a spiritual foundation in the rich time-honored traditions of Japan, have a working knowledge and appreciation of the cultures of both East and West, and, through knowledge and scientific analysis, be able to accurately judge the state of affairs in constantly fluctuating conditions. He or she must also be an individual whose actions reflect personal integrity. This is the kind of student that the founding principles of Kyoto Sangyo University seek to create.
Dr.Toschima Araki
January, 1965
Study in Kyoto, go out into the world. A university for the world we live in.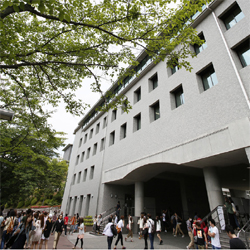 Kyoto Sangyo University is located in Kyoto City, in an area filled with the beautiful nature of Japan. Kyoto is a city in which traditional culture and progressive academic studies coexist to produce great talent, unique industries, and global firms. Kyoto is a one-of-a-kind, innovative city.
Education takes place in this inspiring setting aimed at developing talented individuals capable of working in Japan or on an international stage. Learning takes place based on our founding principles and educational ideals that emphasize strong self-discipline, rich creativity, and unfaltering social responsibility. The school's duty toward our students is to help students develop good character and the capacity to make a unique contribution to the world by setting high goals that take into account the world's growing complexity. KSU has set up a comprehensive university education system that gives students the chance to discover academic synergies and make best use of them in pursuit of broad-based, deep technical knowledge and advanced skills in education and research directly related to the world we live in.
The symbol of our university is Sagittarius, the Archer. The Sagittarius constellation is said to represent the form of Chiron, the wise centaur of Greek mythology, as he gallops across the heavens. This symbol embodies the hope for the students of KSU to embark on great ventures out in the world.