Educational Philosophy
Educational Philosophy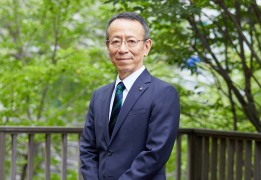 President Akira Kurosaka
Kyoto Sangyo University (KSU) was founded in 1965 by Dr. Toschima Araki. Seriously worried about the devastated moral culture in postwar Japan, Dr. Araki devoted his efforts to foster graduates who could play active roles in the increasingly global society. Following the founder's lead, continued and unstinting efforts have been made by successive Presidents to maintain the "Founding Principles" of KSU, and as a result, the university has continued to develop steadily and successfully.
Since the founding of the university, we have conducted education based on the "Educational Philosophy" written in the "Founding Principles". The philosophy is to foster human resources who are self-disciplined, creative and active both domestically and internationally, without neglecting their social responsibilities. To achieve this philosophy, students in KSU must deeply understand the distinctive features and historical significance of Japanese culture. Furthermore, they need to have knowledge of culture and civilization of the wider world.
In the internationally and informationally developing society of today, KSU makes efforts to organize curricula to foster internationally minded graduates who will actively engage in the globalized world. We are facing new global problems that have been brought about by rapid advances in sciences and technologies and the development of culture and civilization. In an attempt to solve these problems KSU makes the fully utilized advantages found in being a uni-campus university and provides comprehensive and systematic curricula that cover different fields of study through our undergraduate faculties, as well as distinctive specialized education of our graduate schools.
KSU puts special emphasis on broad liberal arts education and specialized education fostering graduates who can contribute to the international community. Furthermore, in accordance with the Founding Principles, we continue to foster graduates with a rich human nature and high ethical values.