Campus Facilities
Campus Facilities
Cutting-edge facilities and capabilities provide a top-notch environment for study,
athletics and cultural pursuits.
Library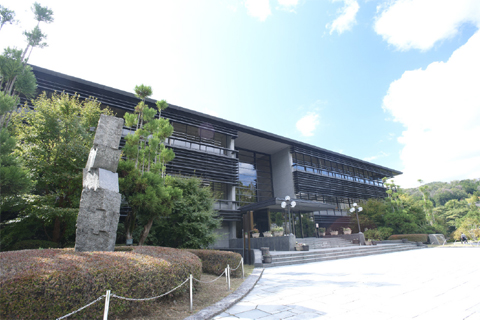 Opened in 1987, the central library provides access to over one million works in a wide range of fields that include books, DVDs, CDs, and other audiovisual media. Access is also provided to electronic journals, databases, and many other kinds of information via the Internet in a system that supports study and research at KSU. The central library also has an arrangement with other libraries and educational and research institutions both in Japan and overseas to promote the sharing of resources, thereby serving as a key facilitator of education and research. The central library makes research results publicly available through the Kyoto Sangyo University Academic Repository website, while the Virtual Document Viewing Room allows the public viewing of valuable materials in the university collection. Through such resources the university gives back to society. A systematic information literacy program includes teaching all new students how to use the library and retrieve information, providing guidance on literature searches for seminar classes, and a seminar on how to search for corporate information as part of looking for employment.
In 2013, an 800,000-volume* automated storage and retrieval system went into operation, greatly expanding the library book storage capacity and speeding up retrieval time, improving services for library users.
*Calculated at an average book thickness of 3 cm (40 books/container)
Information facilities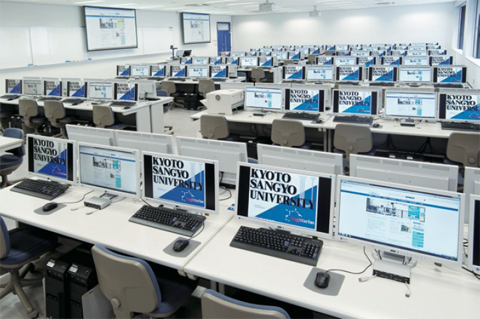 KSU currently has approximately 2,300 networked computers and a campus-wide wireless network. The university was one of Japan's first to build information technology facilities. As early as 1999, using software running on Windows and Linux computers, certain classes in the humanities, social sciences, and natural sciences were held in every computer room. KSU was the first university in the world to use Linux on a large scale in education at a time when Linux was relatively unknown.
For the benefit of the students, every classroom is equipped with the latest electronic projection system. Also, a leading-edge, university-wide learning management system has been adopted that uses information and communication technologies. The system provides the opportunity for comprehensive study that enables both preparation for and the review of lessons.
Koyama Stadium Complex
This stadium complex, located in the northwestern part of the campus, houses a gymnasium, extracurricular activity hall, and Koyama Coliseum (an open-air stage). The multi-purpose gymnasium serves as a center for interaction through sports. It features a 500-seat spectator stand, indoor track, training room, rooms for sports clubs and teams to use, and facilities for various competitive events. The extracurricular activity hall has rooms for cultural club activities and an auxiliary hall. Koyama Coliseum has an outdoor seating capacity of approximately 2,000 for major events. The Koyama nature walking path is also nearby for enjoying a light hike in the surrounding forests.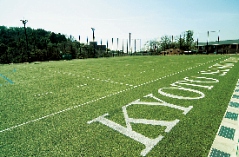 Other sports facilities
A multipurpose playing field complex located near the campus includes a running track, baseball field, horse riding ground, tennis courts, Japanese archery range, and other facilities. A second gymnasium is equipped with judo and kendo training halls, while a second playing field can be used for American football, soccer, or field hockey. Two sets of tennis courts are also available—Koyama and Ichihara. A boathouse is available at Lake Biwa for sailing.
Koyama Hall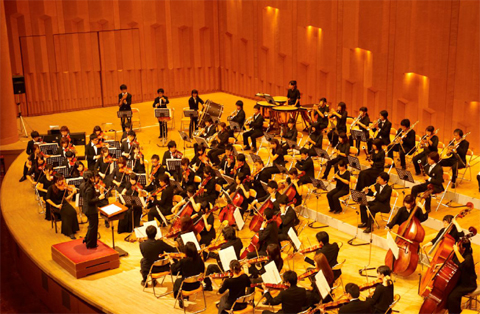 The main auditorium of the 1,600-seat Koyama Hall has a movable stage ceiling and stage wing walls that can be adjusted for reverberation response, providing optimum acoustics for different types of performances. Koyama Hall is used for a variety of events from concerts to theatrical performances to international conferences. Both Japanese and Western-style seminar rooms and a restaurant are also available for use.
Koyama Astronomical Observatory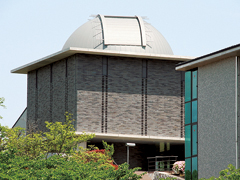 Kyoto Sangyo University has built an astronomical observatory equipped with a reflecting telescope with a diameter larger than that of any telescope at any private university in Japan. The founder of this university, Dr. Toschima Araki, was a researcher of astronomy and astrophysics. For this reason, KSU is well known in Japan as a private university for learning about the universe. The equipment in the astronomical observatory is used by researchers and students from both inside and outside the university, and the observatory itself is considered as one of the best facilities for frontier research and education. The observatory is also widely open to local residents, offering an opportunity for them to experience the universe.
Amenities
A range of facilities have been established on and off campus to assist students
Student's Union
There are nine cafeterias situated on campus, each offering a distinct range of set meals, daily lunch specials, noodles, and rice bowl dishes. Meals are delicious and provide students with a large choice of healthy, well-balanced meals at budget prices. Other facilities include a post office and ATM corners linked to various financial institutions, a book and stationary store and convenience stores selling food and other daily amenities at affordable prices.
Cafeteria

Convenience Store
Koyama Training Institute
The training institute is located in Shizuichi Ichiharacho, a short, 25-minute walk away from the main campus in the direction of Kurama. The training institute assists with the student's learning and research as well as with voluntary activities, and allows both students and staff to focus on mutual debates to produce highly educated graduates with special expertise.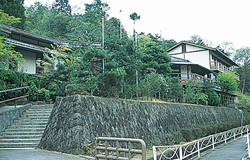 Matsunoura Seminar House
Matsunoura Seminar House is located at the edge of Lake Biwa (Otsu City, Shiga), where students and faculty can enjoy the nature of the surrounding mountains as well as the beautiful lake itself. The house is a place to deepen understanding between students and faculty members by spending time together under the same roof. The informal meetings and seminars held here are also good opportunities for character building.