Center for Research and Community Outresearch
Center for Research and Community Outresearch
Actively promoting collaboration with society through the Center for Research and Community Outresearch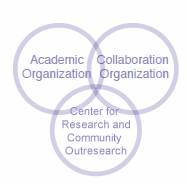 As evidenced by the Chinese characters for "industry" that appear in KSU's name, this realm of endeavor has been an intrinsic part of the University's mission since it first opened its doors. KSU aims to cultivate the individuals who will assume leadership of society in the future while making an important contribution to society. In order to promote research of benefit to society, the Center for Research and Community Outresearch has been engaging in consultation and providing guidance for the development of advanced technologies as a comprehensive point of contact for various industries and communities. It also plans and presents seminars in order to increase skills development.
A program emphasizing collaboration among industry, government, and academia that encompasses the humanities as well as the sciences
Our history of collaboration among industry, government, and academia has been driven by manufacturing, but software development and stimulation of the local community become equally important aspects of collaboration. At KSU, researchers in the natural sciences, in particular those from the Faculty of Science and the Faculty of Engineering, have conducted joint research and contract research in areas such as virology, biotechnology, new materials, renewable energy, and computers.
At the same time, researchers in the humanities and social sciences are conducting joint research in areas such as software development,cultivation of human resources, marketing, and Kyoto studies. In particular, joint research in the humanities and social sciences — a brainstorming exercise building on wisdom from industry, government,and academia — aims to generate a new approach. Typical examples include the development of effective marketing techniques for athletes;a survey on the state of local traditional industries; and support for joint research between successful candidates for the first level of Kyoto Expert Certification and KSU researchers.
DisseminationofInformationon Researchers and Their Achievements
The Center for Research and Community Outresearch publicly disseminates the research efforts of KSU through the following media.
Laboratory Introduction Brochures "Exploring Research: A Message from Sagittarius"
This publication provides an introduction to unique research projects.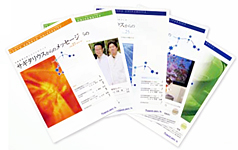 "Innovative Research and Technology"
This publication introduces more than 100 innovations in research and technology. Significant research achievements are also presented.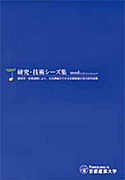 Patents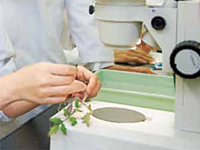 Vigorous research generates results with great potential.
Patent applications are supported for research findings that show promise for industrial applications.