Research Institutes
Research Institutes

Further revitalizing research activity to contribute to advanced academic research and societal development.
To further revitalize research activity, We have established several research institutes that include the Koyama Astronomical Observatory. Furthermore, in addition to providing support for securing external funding for research activities, the organization promotes and supports joint research conducted both within KSU and in conjunction with other universities or research institutes. Academic and research exchanges with other universities and research institutes both in Japan and overseas are also being developed, as well as guest lectures and symposia. The Research Institutes aims to improve the university's research capabilities and promote interdisciplinary, crosssector research that utilizes the wide range of resources gathered at KSU.
Institute for World Affairs
In this institute we examine a wide range of issues faced by the modern world, coordinating research on those issues with the aim of developing proposals that can show the way forward for Japan and the world. Joint research projects are carried out with researchers in other countries, including Japan's regional neighbors, the United States, and the Netherlands. The institute also engages in activities aimed at the development of more comprehensive joint research that covers the development of civilization, science and technology, and other matters of great significance.
Institute of Japanese Culture
This institute promotes comprehensive and interdisciplinary joint research projects focused on Japanese culture, economy, industry, and society. It also aims to contribute to the advancement and development of academic research and contribute to local revitalization.
Institute for Criminal Justice
This institute is developing research that coordinates cooperation between many different fields and agencies. This institute promotes this cooperation as a theoretical response to the question "how should communities, local municipalities, and the national government collaborate to build a society that is safe to live in" and "how should the police function as the core group to guarantee public safety."
Institute for Protein Dynamics
The Institute for Protein Dynamics aims to contribute to the advanced development of bio-technologies and to return these results to the society to help control the many pathologies that humanity faces. It will accomplish this goal by analyzing the roles of life proteins and the interactions between their synthesis and break-down in relation to other factors.
Institute of Advanced Technology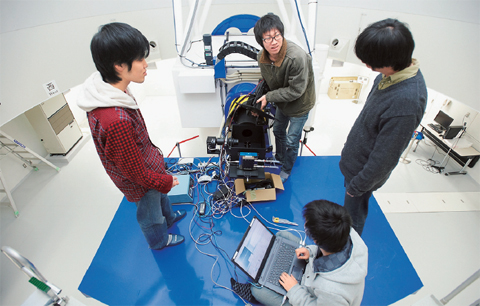 This institute promotes research in advanced technology fields and aims to contribute to the advancement and development ofacademic research.
Center for Sciences towards Symbiosis among Human, Machine and Data
In response to the revolutionary changes taking place in our information society, researchers in a wide variety of fields are collaborating to develop advances in basic research to realize a more harmonious coexistence among people, information tools, and data. We are working to develop advances in research and enable them to enrich society.
Center for Plant Sciences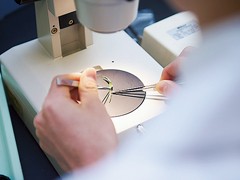 Focusing on plant diversity, we are contributing to advances and developments in knowledge as we unravel the diverse abilities of plants, using genomic, biochemical, and molecular analyses, among others, to ultimately apply our research findings to enrich society.
Institute of Comprehensive Academic Research
The institute promotes research in specialized and interdisciplinary areas, plus research in fields with high societal demand, and contributes to strengthening the research activities of our university and the general advancement of academic research. The institute also aims to give back to society through its research results.
Center for Language Studies
We are researching questions of world languages and literature, including those of Japan, to pursue new possibilities in linguistics and to develop a multifaceted understanding of language and literature. We are contributing to advances in knowledge and using our findings to enrich society.